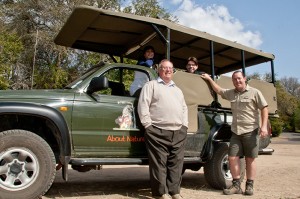 An African Safari had been one of my life long ambitions until I finally got to go in 2010. We arrived in Johannesburg for a one night stay before our 10 hour drive to Kruger National Park. The excitement was building and we grabbed the opportunity to visit a local camera shop to top up on essential batteries and memory cards (you can never have enough!). Our guide and driver for the day was a nice enough guy, but he was quite difficult to understand. Fortunately, upon arriving at camp we dumped our clothes bags and were straight back out, but this time in an open Land Rover safari vehicle with a different guide. This guide was extremely knowledgeable and within the two hours we had before sunset, we were lucky enough to encounter three of "The Big Five" and an abundance of other wildlife.
I enjoyed it so much, I returned the following year and have a Botswana trip planned for September 2014.
The Big Five
As soon as you arrive in South Africa you will become aware of the phrase "The Big Five". It is what most tourists are desperate to see on their once in a lifetime trip. It doesn't refer to the largest animals, nor does it refer to the most difficult to see. It was a phrase coined by white hunters to describe the most dangerous or difficult animals to hunt (on foot). They are:
Lion
Leopard
Cape Buffalo
Rhinoceros
African Elephant

For some, the big five is an obsession but for us it was a bit of fun and did give a nice feeling of achievement once we had been lucky enough to witness all five up close. With such an abundance of different species, it's easy to come up with a "Little Five" and as we did, an "Ugly Five" – the Warthog being the clear winner.
Back to the bush
After a few hours sleep, (you'll be up between 4 and 5 a.m.!) it was straight back out in to the wilderness. Our first mistake, with hindsight, was letting the tour company arrange our booking. We discovered that we would be on a safari vehicle with up to ten people, which is not ideal if you have a large camera bag and want to get some decent shots. You need space and ideally to be able to move to either side of the vehicle without someone else in the way. Fortunately, we had requested on the way from Johannesburg that we get our own guide and vehicle. The tour company were able to accommodate us (at a price) for two of our four remaining days. And so, we met Toby from About Nature Tours. His knowledge on wildlife is unbelievable. There was not a single animal, bird, reptile or piece of dung he could not identify. From a photographers point of view, he was the best guide we could have hoped for. At all animal sightings, he positions the vehicle so we have a good vantage point and then instantly turns off the engine so we didn't get shaky pictures.
Once back out in the wild, we quickly see more impala, then more, then more. Initially you find yourself clicking away getting some great shots of these pretty little antelope. After only a few hours, your reaction changes from "Stop!, Impala…" to "carry on, it's only more impala.". For us, a similar thing happened with Giraffe but as they are such huge and gracious beasts, you never tire of seeing them.
So, what tips do I hav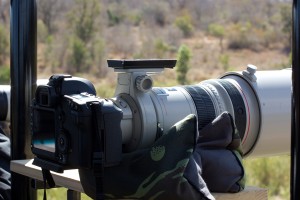 e and what did I learn?
First off, as mentioned above try to get a private guide who limits the number of people per vehicle. It's not so bad if you are with a group of friends who don't mind you laying across their laps with your camera, but strangers tend to take offence. 1 person per row of seats is perfect. Most Safari operators can be accommodating of photographers but ideally you want a guide who is a photographer themselves. Some specialised companies are around who even provide cameras, lenses and mounts for you but the price does start climbing. Unless money is no object, I recommend just talking to a general safari company and see what they can offer. Once you've done it a couple of times, then start going with the Pro's!
Camera Kit.
You need big, fast lenses. I took a Sigma 150-500mm f/5-6.3, which is a lovely lens, but not really fast enough. Many of the best photo opportunities are either at dawn or dusk when the light is not great. At 300mm, you really want to be shooting at 1/300s or faster to get the animals sharp. This was simply not possible with the Sigma lens unless I pushed the ISO right up (thus introducing noise). Next time, I will be hiring either a Canon 400mm f/2.8 or the new Sigma 120-300mm f/2.8. I would say that 80% of my shots would have been fine with a 300mm lens. The other 20% needed a little more reach (fixed by a 1.4x converter at the expense of 1 stop), or a much wider angle, which is where the backup camera comes in to play. [Edit] On my next trip, I did take a Sigma 120-300mm f/2.8 and I had many more "keepers". A full frame body would have helped get even more in low light where I could have pushed the ISO a bit more than I can with an EOS 7D. It really boils down to affordability. Canon and Nikon both have a 200-400mm f/4 lens available, and the Canon variety has a built in 1.4x extender (I don't know about the Nikon). This is as close to a perfect Safari lens as you would wish for, but at over £8000 to buy or £500 to hire for a week you need to be experienced enough to use it and avoid disappointment. An APS-C sensor gives you the extra crop-factor without losing the 1-2 stops of light you would with a full frame/extender combo, but the better ISO performance of full frame balances that anyway – horses for courses really. Take what you can afford and what will fit in your camera bag.
The next tip is – take a backup camera. If you don't have a second DSLR body to take with you , I recommend either hiring one or as I did, buy one on eBay and sell it again when you get back. The latter being by far the cheapest option (I made a profit!). There are a couple of good reasons to take one. The first being that you have spent a lot of money on the trip and you would be immensely disappointed if your camera packed up on the first day. There is nowhere to buy one once you are there and others will be very reluctant to lend you theirs. Secondly, it's a dusty place and things happen fast. You don't want to be swapping lenses all the time if it can be avoided. You can be zoomed in to a leopard 200m away and an elephant might appear within 20m of the vehicle. A 400mm lens is not going to be any good, so you need to have a wider angle lens already on the backup camera and ready to shoot. I used a 17-85mm f/4-5.6 which got me out of trouble most of the time.
Backup. A endless supply of memory cards would be nice, but not always practical. They also sometimes go wrong. Take a laptop or tablet with you or one of those memory card backup hard disks and copy all of your photos every day. I took both and kept one copy with me and left one in the room/tent.
Insurance. Get your kit insured. These are very dusty and bumpy places and the risk of a lens getting a whack or bouncing on to the floor is very real. There is also a small risk of theft, but that's more likely to occur at the airport if you check in your equipment. Change lenses as little as possible or you will spend hours trying to blow the dust off your sensor.
Camera Mount. This is quite a difficult one. Space is tight in the vehicle and you are generally not allowed to get out (in Kruger, at least),  so you don't really want a tripod with you. Some vehicles have sides which are quite high or platforms, both of which are ideal for beanbags. If you are in an enclosed vehicle, the windows are quite good for beanbags too. A monopod with a quick release ball head was my mount of choice, but this may vary in a different vehicle. I would say that if you take a monopod and beanbag, you're pretty much covered. I left the beanbag empty and just bought 3Kg of rice when I got there – worked a treat. One thing worth mentioning is that the night sky in Africa is fantastic. If you wanted some astro-photography shots of the Milky Way, you'll need to pack the tripod too.
In part 2, I will go into more detail about the animals you encounter, clothing and my future plans.