Finally, the rumours have come true and the long awaited EOS 7D Mark II has been announced by Canon.
The leaked/rumoured specs were pretty much spot on, but there were still some surprises under the hood. I hope to get my hands on one of these soon after release, but until then I can only comment on what Canon tell us it can do.
I'll put a full specification list at the bottom of this post, but first off, I'd like to cover a few of the main differences between this and other models (namely the 5D Mark III, original 7D and the 1Dx).
The price (currently £1599) is where you would expect it to be as a "prosumer" grade cropped sensor DSLR. Technically speaking, it's way ahead of the 5D Mark III on pretty much everything other than a full frame sensor. Some are saying this is like a mini EOS 1Dx, which can only be a good thing given that it is less than half the price, and still £600 cheaper than the already ageing 5D Mark III.
So, why should you buy this camera if you already have a perfectly capable 7D?
In my opinion, there are many reasons to upgrade, especially if your chosen persuasion is sports or wildlife photography. Here's my summary:
Massive improvement of noise levels at high ISO (and this puppy can go up to 16000 before even touching the expanded settings)
the best Auto Focusing system currently on the market (yes, better than the £4K+ 1Dx)
10 Frames Per Second – that's 4 more than the 5D III and only 2 less than the 1Dx.
despite taking a new battery, the old LP-E6 ones you have lying around are completely compatible.
If the claims made by Canon are true and this new high sensitivity/low noise sensor produces superb images in low light, then almost all of the benefits of a full-frame sensor are gone. The one exception is if you happen to be a landscape photographer and want to maintain your ultra wide angle shots.
Some other nice features which excite a geek like me but seem to have been overlooked my many of the mainstream reviews are as follows:
In camera HDR and multi-exposure. This allows you to take up to 5 shots which are merged to HDR, but all the source images can be saved too.
Built in intervalometer and bulb timer. This allows you to take timed bulb shots (e.g. 30 minutes) or one shot every n seconds for x minutes without 3rd party add-ons or Magic Lantern!
Improved Auto Exposure Bracketing (AEB) to allow 2,3,5 or 7 shots, a vast improvement over the 3 possible on the original 7D.
USB3 port, meaning much faster transfer of files to your computer without needing a card reader.
CF and SD Card slots – don't personally like SD cards, but good option for backup I guess.
GPS with a digital compass. Just in case you want to geo-tag your images.
Silent Drive mode, allows silent shooting when in quiet locations (or taking a crafty shot of the bridesmaid without getting caught)
All in all, this looks like a really, really nice camera. It is very capable and will be just as much at home in a Pro's bag as an enthusiastic amateur's. It is scheduled to be available from authorised canon dealers from November 2014 onwards.
Head over to www.cvp.co.uk for some of the best UK deals.
Here are the full specs, in case I've overlooked anything and a few pics of what it looks like.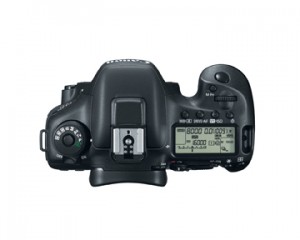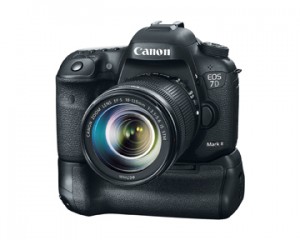 Image Sensor
Type:
22.4 x 15.0mm CMOS
Effective Pixels:
Approx. 20.2 Megapixels
Total Pixels:
Approx. 20.9 Megapixels
Aspect Ratio:
3:2
Low-Pass Filter:
Built-in/Fixed with fluorine coating
Sensor Cleaning:
EOS Integrated cleaning system
Colour Filter Type:
Primary Colour
Image Processor
Type:
Dual "DIGIC 6"
Lens
Lens Mount:
EF/EF-S
Focal Length:
Equivalent to 1.6x the focal length of the lens
Focusing
Type:
TTL-CT-SIR with a dedicated CMOS sensor
AF System:
65 cross-type AF Points (Centre point is an extra sensitive dual-cross type point at f/2.8, cross-type at f/8
Sensitivity:
-3EV
AF Working Range:
EV -3-18 (at 23°C & ISO100)
AF Modes:
AI Focus, One Shot, AI Servo
AF Point Selection:
Automatic selection, Single Point AF, Single Point Spot AF, AF point Expansion 4 points, AF Point Expansion surrounding 8 points, Zone AF, Large Zone AF
Selected AF point display:
Superimposed in viewfinder and indicated on top LCD panel and Quick Control screen
Predictive AF:
Yes, up to 8m
AF Lock:
Locked when shutter button is pressed half way in One Shot AF mode or AF-ON button is pressed
AF Assist Beam:
Intermittent firing of built-in flash or emitted by optional dedicated Speedlite
Manual Focus:
Selected on Lens
AF Microadjustment:
+/- 20 steps (wide and tele setting for Zooms), adjust all lenses by same amount, adjust up to 40 lenses individually, adjustments remembered for lens by serial number
Exposure Control
Metering Modes:
TTL full aperture metering with 252 zone Dual Layer SPC – Evaluative, Partial, Spot and Centre weighted metering
Metering Range:
EV 0-20 (at 23° with 50mm f/1.4 lens ISO 100)
AE Lock:
Auto: in 1-shot AF Mode with evaluative metering exposure is locked when focus is achieved. Manual: By AE Lock button in creative zone modes
Exposure Compensation:
+/- 5 EV in 1/3 or 1/2 stop increments (can be combined with AEB)
AEB:
2,3,5 or 7 Shots +/-3 EV 1/3 or 1/2 stop increments
ISO Sensitivity:
Auto (100-16000), ISO-16000 (in 1/3 or 1 stop increments) H1:25600, H2:51200
Shutter
Type:
Electronically-controlled focal-plane shutter
Speed:
30-1/8000sec (1/2 or 1/3 stop increments), Bulb
White Balance
Type:
Auto White Balance with the imaging sensor
Settings:
AWB, Daylight, Shade, Cloudy, Tungsten, White Fluorescent light, Flash, Custom, Colour Temperature in Setting-White balance compensation
Custom White Balance:
Yes, 1 setting can be registered
WB Bracketing:
+/- 3 levels in single level increments, 3 bracketed images per shutter release
Viewfinder
Type:
Pentaprism
Coverage:
Approx. 100%
Magnification:
Approx. 1.0x
Eyepoint:
Approx. 22mm
Dioptre Correction:
-3 to +1m
Focusing Screen:
Interchangeable (3 types, optional). Standard EH-A, Super precission Matte EH-S II
Mirror:
Quick-return half mirror (Transmission: reflection ratio of 40:60, no mirror cut-off with EF 600mm f/4 or shorter)
Viewfinder Information:
AF Info, Focus Indicator, Exposure Information, Flash Information, Image Information, Composition Information, Other information
Depth of Field:
Yes, with Depth of Field preview button
Eyepiece Shutter:
On Strap
LCD Monitor
Type:
7.7cm (3.0″) Clear View II TFT, approx. 1040k dots
Coverage:
Approx. 100%
Viewing Angle:
Approx. 170°
Coating:
Anti-reflection and Solid Structure
Brightness Adjustment:
Auto, Manual
Flash
Built-in Flash GN:
11
Built-in Flash Coverage:
up to 15mm focal length (35mm equivalent: 24mm)
Built-in Flash recycle time:
Approx. 3 seconds
Modes:
E-TTL II, Manual Flash, Multi flash, Integrated Speedlite Transmitter
Red-Eye Reduction:
Yes
X-sync:
1/250sec
Flash Exposure:
+/- 3EV in 1/2 or 1/3 increments
Flash Exposure Bracketing:
Yes
Flash Exposure Lock:
Yes
Second Curtain:
Yes
HotShoe/PC terminal:
Yes/Yes
External Flash Compatibility:
E-TTL II with EX series Speedlites, wireless multi-flash support
External Flash Control:
Via Camera Menu Screen
Shooting
Modes:
Intelligent Auto, Program AE, Shutter priority AE, Aperture priority AE, Manual, Bulb, Custom
Picture Styles:
Auto, Standard, Portrait, Landscape, Neutral, Faithful, Monochrome
Colour Space:
sRGB and Adobe RGB
Drive Modes:
Single, Continuous L, Continuous H, Self timer, Silent single shooting, Silent continuous shooting
Continuous Shooting:
Max. Approx. 10fps, infinite JPEGs or 31 RAW Images
Intervalometer:
Built-in, number of shots selectable from 1-99 or unlimited, Bulb timer possible
Live View Mode
Type:
Electronic viewfinder with image sensor
Coverage:
Approx 100%
Frame Rate:
29.97 fps
Focusing:
Manual, Autofocus, Tracking
Metering:
Real-time evaluative metering with image sensor
Display Options:
Grid Overlay, Histogram
File Type
Still Image Type:
JPEG, RAW
Movie Type:
MOV (Video: H.264 or MP4: Intra frame / inter frame, Sound: Linear PCM with H.264, AAC with MP4)
Movie Size:
1920 x 1080 (59.94, 50 fps)
Max Duration:
29min 59sec
Interface
Computer:
SuperSpeed USB 3
Storage
Type:
CompactFlash Type I (UDMA compatible), SD Card
Supported Operating System
PC & Mac:
Windows 8.1/7/7 SP1 / Vista SP2 / XP SP3 – OS X v10.8-10.9
Included Software:
ImageBrowser EX, Digital Photo Professional, PhotoStitch, EOS Utility, Picture Style Editor
Power Source
Batteries:
LP-E6N
Battery Life:
Approx. 670 shots
Battery Indicator:
6 levels + percentage
Power saving:
Power turns off after 1,2,4,8,15 or 30 mins.
Power Supply:
ACK-E6
Battery Charger:
LC-E6
Physical Specifications
Body Materials:
Magnesium Alloy body covers
Operating Environment:
0-40°, 85% or less humidity
Dimensions (WxHxD):
148.6 x 112.4 x 78.2mm
Weight (body only):
Approx. 910g
Source: Canon official Press release.